Boobs Out, Butts Up / Kaisa Nord, Scarlett Jones / Jan 05,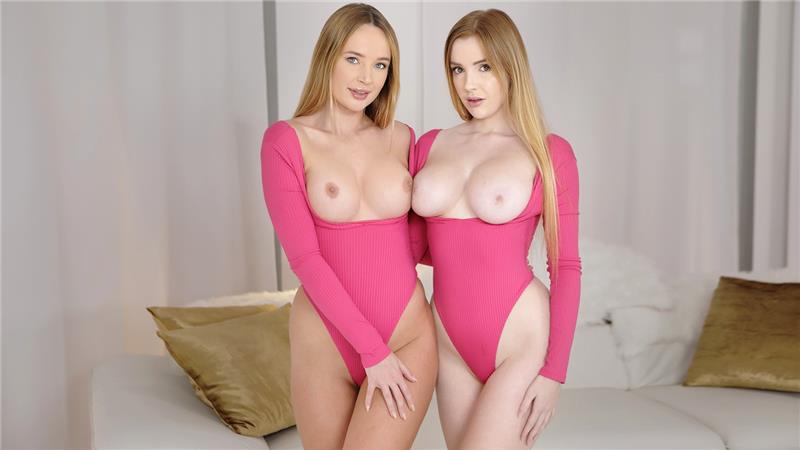 Cast: Kaisa Nord, Scarlett Jones
Studio: VirtualTaboo
Best friends Kaisa Nord and Scarlett Jones have been dancing their whole lives. The long hours spent in studios, strict diets and giving up everything to perfect their craft has finally paid off. They have landed an audition with a prestigious touring company and are willing to do whatever it takes to land the gig. The competition is stiff and both blondes want a spot in the company. Unfortunately there is only one open spot. They pay a visit to you after their tryout and sit down to convince you that you should take them both. Strap on your VR Headset and watch just how far these sexy dancers are willing to go. There really is only room in the company for one, but Kaisa and Scarlett will not take no for an answer, at least not until they have shown you all they have to offer. Sit back and enjoy a perfect view as they turn around and show you just how shapely their amazing asses are. They are unquestionably two of the hottest dancers you have ever seen and they know they have your attention now. You still can't give them both a spot so they turn up the heat by taking out their tits and shaking them for you. They make it clear that having them in the company means that you get full access to their lean, powerful bodies any time you like, both at once if that turns you on. Or maybe you just want to watch them together? They don't mind that at all. Whatever you want, it can be yours if you just hire them both. Can you make their dreams come true?
VR Porn Video "Boobs Out, Butts Up" from VirtualTaboo studio featuring Kaisa Nord, Scarlett Jones.
Download File – Boobs Out, Butts Up
Special yoga with sister Taissia / Taissia Shanti / February 13, 2017

Teacher's Authority / Dominno, Zeynep Rossa / Apr 30, 2021

Pulse Racing, Denim Shorts Getting Wet / Gabi Gold / November 27, 2018

Silky Touch / Lana Roy / 06 February, 2020

Risky Sex In Front Of Daddy / Aruna Aghora / August 11, 2017

Private Session / Katrina Moreno / November 21, 2017

Come Play With Me / Sasha Rose / Jan 21, 2021

Cheating Wife – Happy Cuckold's Life / Cecilia Scott / July 07, 2017