Shhh, Don't Get Caught / Eva Elfie / Jan 01,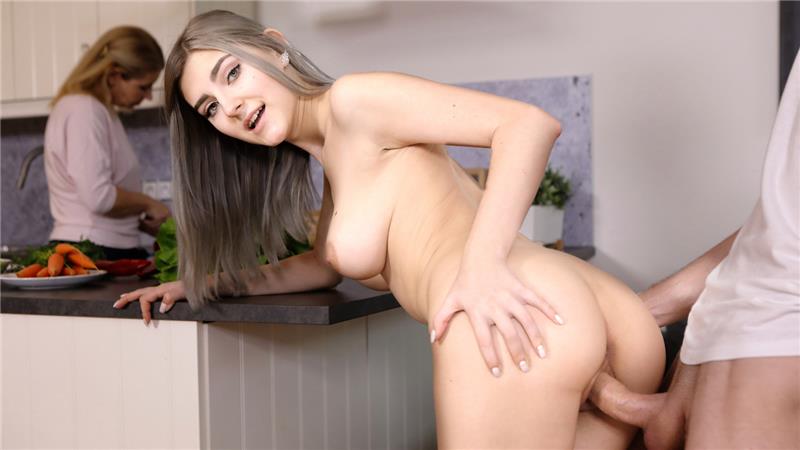 Cast: Eva Elfie
Studio: VirtualTaboo
Eva Elfie is a very horny young VR pornstar. When she needs cock, nothing can get in her way. One morning Eva has her boyfriend over and her mother offers to fix them breakfast. They are happy to have the food, but Eva has other things on her mind and she cannot wait to have his cock. Using the counter to hide her actions, she lifts her skirt and shows him her ass. The playful flirting is fun, but Eva isn't joking around. She needs his cock and doesn't care how dangerous it is. Her boyfriend tries to play it cool, smiling at her mom even as Eva is flashing him a peek of her tight young pussy. As much as he wants her, he knows that her mother would be furious if she caught them. Eva knows it as well, but doesn't care. She has to have his cock right now. Eva grabs a banana, peels it and sits in his lap. Her tongue circles the tip seductively as she teases him. She can feel his dick stiff in his pants and rubs her ass in his lap. He does his best to hold back, but Eva is not going to let him go without fucking him. She is as hot and horny as the young ladies in his favorite VR Porn scenes. He can't resist when she replaces the banana with his cock and starts vigorously sucking every inch of it. The more she sucks, the hornier she becomes until she can't hold back any longer. Lucky for them, mom is busy making breakfast, because he doesn't stop pounding her tight slit until he has covered her shaved hold with his special sauce.
VR Porn Video "Shhh, Don't Get Caught" from VirtualTaboo studio featuring Eva Elfie.
Download File – Shhh, Don't Get Caught